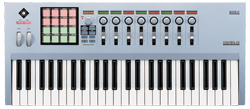 The .zip archive of the template files can be downloaded for free: KorgKontrol49P5Ver2Template200578155459.zip
Files include a Korg .k4d file (customised for use with P5 ver.2) to use in Korg Kontrol49 Editor Librarian and a P5 starter template. Feel free to Modify and liquify. You can open this up in P5 and I don't think it will alter your regular template unless you "Save as Template" but "No guarantees"!
The first Slider controls Master Volume.
Sliders 5 through 8 control Aux Volume 1 through 4.
X-Y is assigned to Pan and Width on track one.
I assigned the Pads from toggle to momentary to be used in Velocity, etc.
Finally the Sw1 and Sw2 Switches are assigned to Soft and Sostenuto respectively.